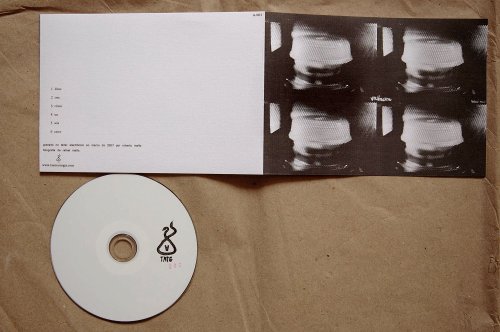 Self-taught musician interested in free jazz and improvised music, through his ears he catch the vibration of drummers like Sunny Murray, Han Bennink or Chris Corsano that his music takes the way to liberty and introspection. His way to provoke and transmit this vribration is registered in "vribación": CD-R containing six tracks of improvised drumming.
Tracks:
01 – dous
02 – tres
03 – cinco
04 – un
05 -seis
06 – catro
Recorded at Taller Electrónico in march 2007 by Roberto Mallo
photograph by rafael mallo
Download formats and streaming from archive.org.
Price 8 €
The drummer of Volonte is Rafael Mallo, who is also responsible for a solo release called 'vribacion' and it has him solo on his kit and percussion. His six tracks are much shorter, but also entirely improvised. The vibrations of the kit work well coming to this listener, but here too, I think the same. Why so long (although it's 2/3 of Volonte's release) and if improvised music is so much a thing of the here and now, why release it? Wouldn't it be better to present this music solely through concerts and not through which releases which are here tomorrow and there too? These were the things I was thinking about when playing Mallo's release, which, as said, surely has its moments, certainly in the louder moments of the disc. Perhaps to be seen as a presentation card for his qualities? He certainly has them, if you are looking for a wild punk jazz drummer.
Frans de Waard
Solo drums, six tracks. Not really "avant" in the sense of anything post-1970 or so (for the most part–there are a couple of "lower case" moments), just six solid drum tracks, the emphasis on the toms and lower-pitched sounds. As with something like the Garbarek-y disc from a little while back, I don't really understand the larger point of this kind of exercise, but what Mallo seeks to do, he does very well, very precisely but with nice feeling. Sometimes I was reminded of Don Moye, other times Roy Brooks.